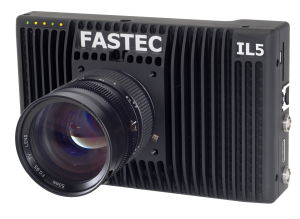 Fastec IL5
High Definition (HD) resolution and Long Record Mode
Performance to fit – With four models from SVGA (800x600) to QSXGA (2560x2048), there is a IL5 that is right for your needs. All models use an advanced 5-Megapixel sensor that produces remarkably clean images at all resolutions. Binning and sub-sampling features of the sensor give it great flexibility and sensitivity.
FasFire Mode – Ultra-fast save times to the onboard media while simultaneously recording high-speed bursts of hundreds or even thousands of images at a time, the IL5 is always ready forthe next high-speed snapshot!
Flexible Control – The IL5 can be controlled over Gigabit Ethernet via Fastec FasMotion software on your PC or Mac or via the built-in web interface with your favorite web browser on your PC, Mac, tablet or even your smartphone.
High-Performance Image Transfer – FasMotion camera control, running on a PC or Mac makes workflow a breeze with image transfer rates of up to 90MB/sec, depending on image size, file type and computer performance.
Multiple Storage Options – The IL5 features both a USB port and an SD port for quick and easy image downloads to USB flash drives, SD cards or portable hard drives. The built-in SSD provides up to 1TB of lightning-fast non-volatile internal storage.
Long Record Option – Stream video to a built-in SSD at over 200 frames per second at HD 1080p resolutionand 520 fps at HD 720p resolution. Unlike traditional high-speed camera systems that record for only a few seconds and require careful triggering, the Fastec IL5 with LR option can record at highspeed for many minutes, or hours at reduced resolutions.
FasCorder Mode – Operate the camera as you would a common camcorder! This intuitive Long Recordfeature allows you to record and pause as needed to follow the action, stop recording and review what you have and then append additional footage at will, even after a power cycle. Choose between Record on Command (ROC), which records varying length clips, and Burst Record on Command (BROC), which records fixed-length clips. In Playback, all of the recordings are browsable on the timeline. You may play or scrub through them continuously or jump to the beginning of each, making it easy to find the footage you wish to view.
Download Fastec IL5 Data Sheet
Features
The IL5-Q offers vivid Quad-HD 1440p
Full HD at over 630fps, faster frame rates at lower resolutions
Advanced 5-Megapixel CMOS sensor
Multiple recording modes to suit any situation
Control via touchscreen, FasMotion PC/Mac app, or web browser
Long Record Option: Stream video directly to an SSD