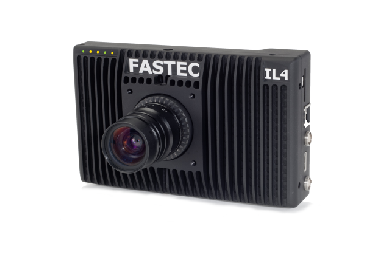 Fastec IL4-100
Long Record and Standard Mode
Burst Mode: High-Speed Images - The Fastec IL4 records 1280 x 1024 mono or color images at over 500 frames per second, opening a world of events too fast for the human eye to see.
Flexible Control - The IL4 can be controlled over Gigabit Ethernet via Fastec FasMotion software on your PC/Mac or via the built-in web interface with your favorite web browser on your PC, Mac, tablet, or even your smartphone.
Long Record Mode - with recording speeds of up to 365 frames per second at full resolution and 1541 fps at VGA resolution (SATA III option) to the built-in SSD, the Fastec IL4 lets you see what you have been missing with standard video. Unlike traditional highspeed camera systems, which only record for a few seconds and require careful triggering, the Fastec IL4 can record continuously at high speed for many minutes, or hours at reduced resolutions.
FasFire Mode – Ultra-fast save times to an SSD or SD card while recording high-speed bursts of hundreds or even thousands of images at a time, the IL4 is always ready for the next highspeed snapshot!
FasCorder Mode – Operate the camera as you would a common camcorder! This intuitive Long Record feature allows you to record and pause as needed to follow the action, stop recording and review what you have, and then append additional footage at will, even after a power cycle. Choose between Record on Command (ROC), which records varying length clips, or Burst Record on Command (BROC), which records fixed-length clips. In Playback, all of the recordings are browsable on the timeline. You may play or scrub through them continuously or jump to the beginning of each, making it easy to find the footage you wish to view.
Multiple Storage Options - The IL4 features both a USB port and an SD port for quick and easy image downloads to USB flash drives, SD cards, or portable hard drives. An optional built-in SSD (solid state drive) provides up to 1 terabyte (TB) of lightning-fast non-volatile internal storage. Shoot all day long without having to download to a computer.
High-Performance Image Transfer - With download rates of about 8GB per minute to the optional internal SSD, or just seconds for short clips, you will always be ready to take the next shot with the IL4! The FasMotion application makes workflow a breeze with transfers of uncompressed images via Gigabit Ethernet at rates of 50–80MB/s to moderately equipped PCs.
Download Fastec IL4-100 Data Sheet
Features
Long Record and Burst Mode in one camera
1280 x 1024 at 510 fps CMOS sensor
Full resolution : 365 fps to on-board SSD (SATA III)
Multiple removable storage options
Camera control via built-in web interface or FasMotion PC/Mac application