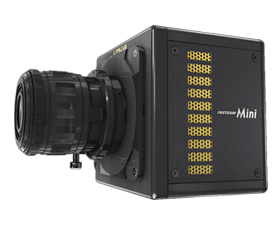 Photron FASTCAM Mini WX50/100
Powerful, high definition (HD) imaging performance
The Photron FASTCAM Mini WX high-speed camera provides powerful, high definition (HD) imaging performance in a compact, lightweight and rugged camera design. Providing 2,048 x 2,048 pixel resolution to over 1,000 frames per second (fps), 1080 HD resolution to 20,000 fps, and frame rates up to 80,000 fps at reduced resolution, the FASTCAM Mini WX delivers both high speed and high resolution for demanding applications.
Contained within a 120mm x 120mm x 99mm camera body weighing just 1.6kg, the FASTCAM Mini WX is uniquely suited for use in a wide range of scientific and industrial applications. The camera is designed for operation in high shock and vibration environments, allowing the system to be utilized in High-G automotive safety and military testing environments.
The FASTCAM Mini WX is available in two models that differ only in frame rate performance. The Mini WX100 is the faster camera, providing 1,080 fps at full resolution. The lower priced Mini WX50 allows 750 fps at full resolution.
Download Photron FASTCAM Mini WX50/100 Data Sheet
Features
Frame Rate Performance examples:

2,048 x 2,048 pixels @ 1,080fps
1,920 x 1,080 pixels @ 2,000fps
1,280 x 960 pixels @ 3,000fps
512 x 416 pixels @ 10,000fps
256 x 224 pixels @ 20,000fps
256 x pixels @ 80,000fps

Self-contained, compact and lightweight camera 120 mm (4.7")H×120mm (4.7")W×99mm (3.9")D and 1.6 Kg
Sensitivity: ISO 12232 Ssat standard

ISO 4,000 monochrome
ISO 1,250 color

Suitable for operation in High-G environments. Operation tested to 100G, 10ms, 6 axis
4GB, 8GB and 16GB memory options and high performance Gigabit Ethernet interface to PC