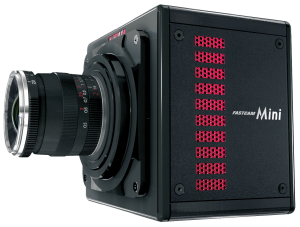 Photron FASTCAM Mini AX50/100
Outstanding Light Sensitivity in a Compact Package
The Photron FASTCAM Mini AX100 and Mini AX50 high-speed cameras provide high frame rates, extraordinary light sensitivity and superior image quality in a compact, lightweight and rugged camera design. Providing 1,024 x 1,024 pixel resolution at up to 4,000 frames per second (fps) and reduced resolutions to 540,000 fps, the Mini AX100 and Mini AX50 deliver the performance required for demanding industrial, military and laboratory applications.
With light sensitivity of ISO 40,000 monochrome and ISO 16,000 color (using the ISO 12232 Ssat standard), the FASTCAM Mini AX100 and AX50 have better sensitivity than other mid-range high-speed cameras. Higher light sensitivity means that less additional lighting is required to capture a high-speed event. It also means that faster frame rates, shorter shutter speeds and greater depths of field are provided under equivalent lighting conditions.
The FASTCAM Mini AX100 and Mini AX50 are identical with a single exception. The Mini AX100 is the faster camera, providing 4,000 fps at full resolution. The lower priced Mini AX50 allows 2,000 fps at full resolution.
Download Photron FASTCAM Mini AX50/100 Data Sheet
Features
Performance examples (assumes Mini AX100):

4,000 fps at 1,024 x 1,024 resolution
10,000 fps at 768 x 528 resolution
20,000 fps at 384 x 384 resolution
50,000 fps at 256 x 128 resolution
100,000 fps at 128 x 96 resolution
540,000 fps at 128 x 16 resolution

Self-contained, compact and lightweight camera 120 mm (4.7")H×120mm (4.7")W×94mm (3.7")D and 1.5 Kg
Sensitivity: ISO 12232 Ssat standard

ISO 40,000 monochrome
ISO 16,000 color

4GB, 8GB and 16GB memory options and high performance GigaBit Ethernet interface to PC